Presentation Builder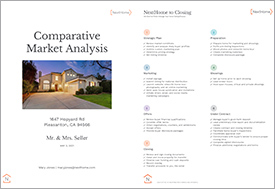 Presentation Builder is your comprehensive place for listing presentations, buyer presentations, property report presentations and more.  It includes all our newly designed presentation materials to help you get more listings, impress buyers and push your competition aside!  This custom, MLS-integrated and easy-to-use tool takes you step by step in minutes through creating full color presentations.  The CMA section allows you to build listing presentations by selecting the pages you prefer, arranging the order and creating your own pages.  The Buyer Tour section includes all the Buyer Presentation pages, and also allows you to build the presentation with preferred pages, arrangement and your own creations.  In addition, the Property section is where you can run profiles and information on any property for all clients.
Once you have created a custom piece, you can view it to download, or save the presentation for printing in the office or via a professional printer.  You can also email the presentation directly from the presentation builder and share it on social media, including a custom QR code that can be used to access that specific presentation.
Be sure to watch our Video Screencasts to learn how to use the Presentation Builder: Click Here
Spark Platform
MLSs that are a part of the Spark Platform are compatible with the Presentation Builder platform. Click Here to download the list of MLSs and for the step-by-step instructions.