Maximum Listing Exposure, Maximum Buyer Lead Opportunity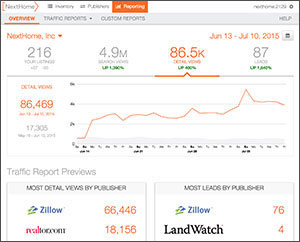 The National Listings Distribution program provides your listings more online exposure than any other real estate company. Your listings are now sent to hundreds of national websites including the top websites where consumers are searching: Zillow.com, Trulia.com, Homes.com & Yahoo.com.
Buyer Tracking: We provide a personalized back end system with robust online buyer search analytics on all of your listings from hundreds of national websites. You also have the ability to setup a customized automatic email traffic report for sellers, keeping them up to date on your online marketing efforts.
How to use the NLD program: The following steps will guarantee your listings are syndicated through our NLD program and are available in your NextHome account for tracking:
1.) Add your listing into NextHome's reporting system at https://intranet.nexthome.com/Reporting/Activity using either the pre-populated MLS listing data or by manually adding the listing. (Please note each MLS website has their own updating schedule, therefore your listing can take up to 72 hours to populate in the reporting system).
2.) Any future changes or updates to a listing (like price changes, status updates, new information, etc.) must be changed in our system separate and apart from the MLS in order for it to update on all of the hundreds of national sites.
3.) Setup a customized automatic email traffic report for your seller on the (a) 1st of the month, (b) the 1st and the 15th of the month or (c) weekly.
How to market your newly enhanced NLD program? Custom marketing pieces have been designed for your use in listing presentations, prospecting campaigns and service marketing. Login to the Presentation Builder to download them.